Welcome
At South Nottinghamshire Academy, we offer all our students an outstanding sixth form education characterised by academic excellence, outstanding learning experiences and extensive enrichment opportunities.
High expectations combined with the dedicated support of specialist tutors, teachers and careers advisers ensure that students, whatever their individual needs, can develop self-confidence, fulfil their potential and realise their aspirations.
Students leave us ready to assume their responsibilities as young adults and prepared to embrace further exciting opportunities.
If you would like any further information, help or advice about the Sixth Form or the study programmes we offer, please do not hesitate to contact us.
Mrs Cox
Strategic leader/ Head of Sixth Form
Students come first at the Academy, and it is no different in the Sixth Form. We deliver academic excellence, a broad co-curriculum and a comprehensive mentoring package that enables you to reach your true potential.
Our Academy Sixth Form offer includes:
A full range of academic courses (A Levels)
BTEC Level 3 National Extended Diploma in Sport and ICT
Strong pastoral care with a focus on individual support and guidance
A variety of social and enrichment activities
Our aim is to work alongside you to gain excellent qualifications and prepare you for the outside world- to ensure that you survive and thrive independently – to successfully manage your lives beyond school.
Moving into sixth form is very much a transition from traditional learning to an emphasis on independent thinking and self-motivated study. We are so proud every year to see our Year 13 students leaving the school as confident, interesting and intellectually inquisitive young adults, equipped not just with qualifications but with a rich diversity of experiences and skills, and an appetite for new challenges.
If you require further information, please do not hesitate to contact the sixth form team via sixthform@snacademy.org.uk
Message from the Head Boy and Head Girl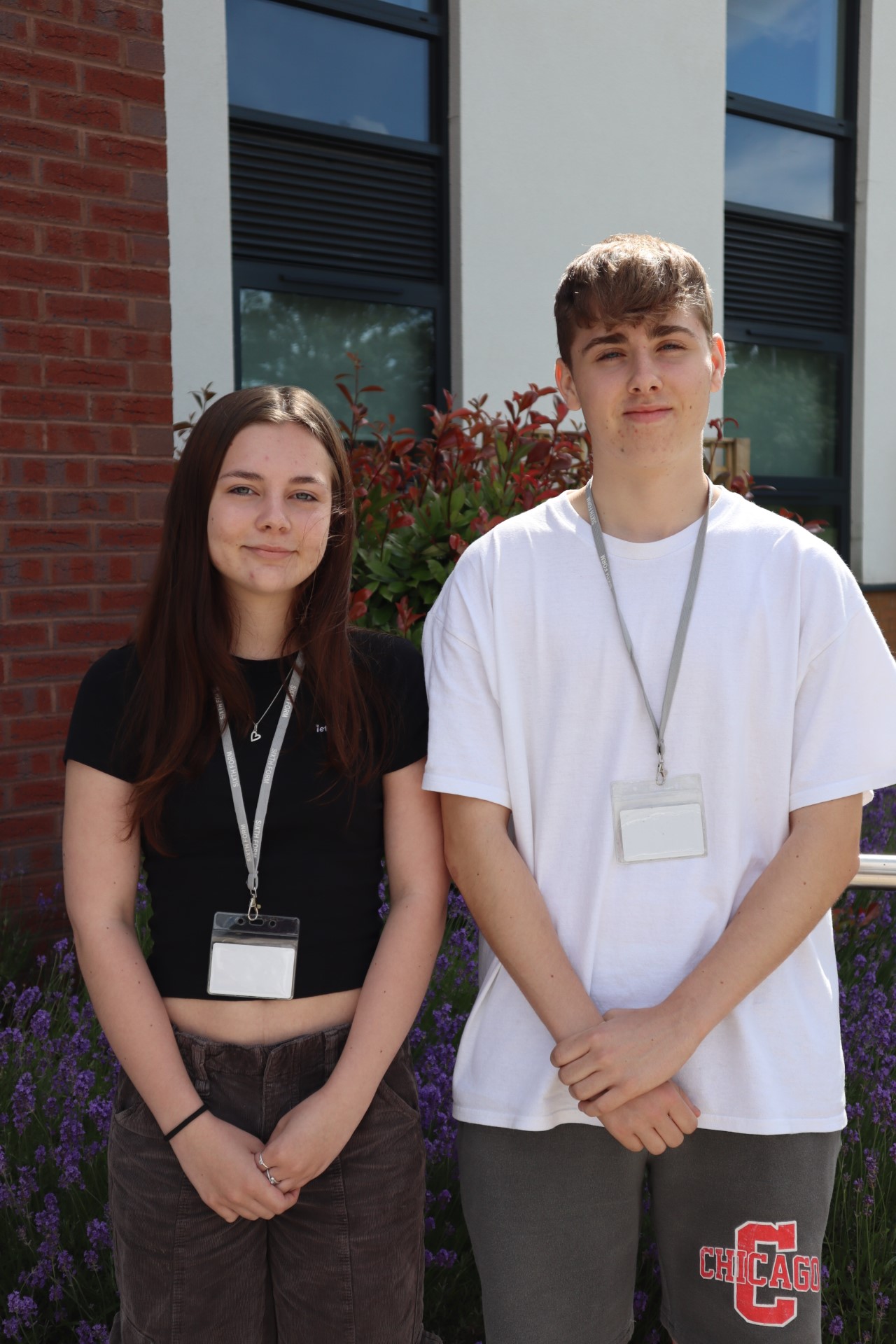 Post 16 study at South Nottinghamshire Academy allows individuals to study a wide range of subjects with knowledgeable teachers, who have a wealth of experience and are passionate about their subjects. In Sixth Form, you learn how to be independent and are given much more freedom than in main school. Sixth Form helps you prepare for the world ahead by developing skills that you need for adulthood.
The small class sizes and the social study area allow students to thrive in their studies but also creates a warm and welcoming environment for Sixth Form students. From our experience studying in the Sixth Form, we would encourage other post 16 students to apply here at South Nottinghamshire Academy – no other place will know you so well, no other institution will be as invested in your achievement.
- Luke and Aimee
The best thing about this Sixth Form is the friendly and welcoming atmosphere, the help and support from the teachers and the facilities such as the library for study periods. I have really enjoyed the independence we are given and the opportunity to organise our own study in free periods. I am glad I chose here because of the facilities and the teaching. Studying here for my A levels, I have gained writing skills and social skills as well as independence, which makes me feel confident about going to university. I know I will be able to cope. - Year 13 student
Our Sixth Form Team
The Sixth Form team is a highly experienced group of staff, who have been successfully tutoring and mentoring Sixth Form students for many years. We understand the inherent difficulties that lie in transition – from Year 11 to Year 12, from Year 12 to Year 13 and from Year 13 into Higher Education and beyond. We are adept at supporting you through these major milestones and working with you to enhance your learning, raise your achievements and fulfil your ambitions. We do this together.
Mrs A Cox – Strategic Leader/Head of Sixth Form
Miss Baggaley – Sixth Form Administrator
Mr Richardson - Year 13 Tutor
Mrs Parris – Year 13 Tutor
Miss Mees - Year 13 Tutor
Miss Wood – Year 12 Tutor
Mr Errington - Year 12 Tutor